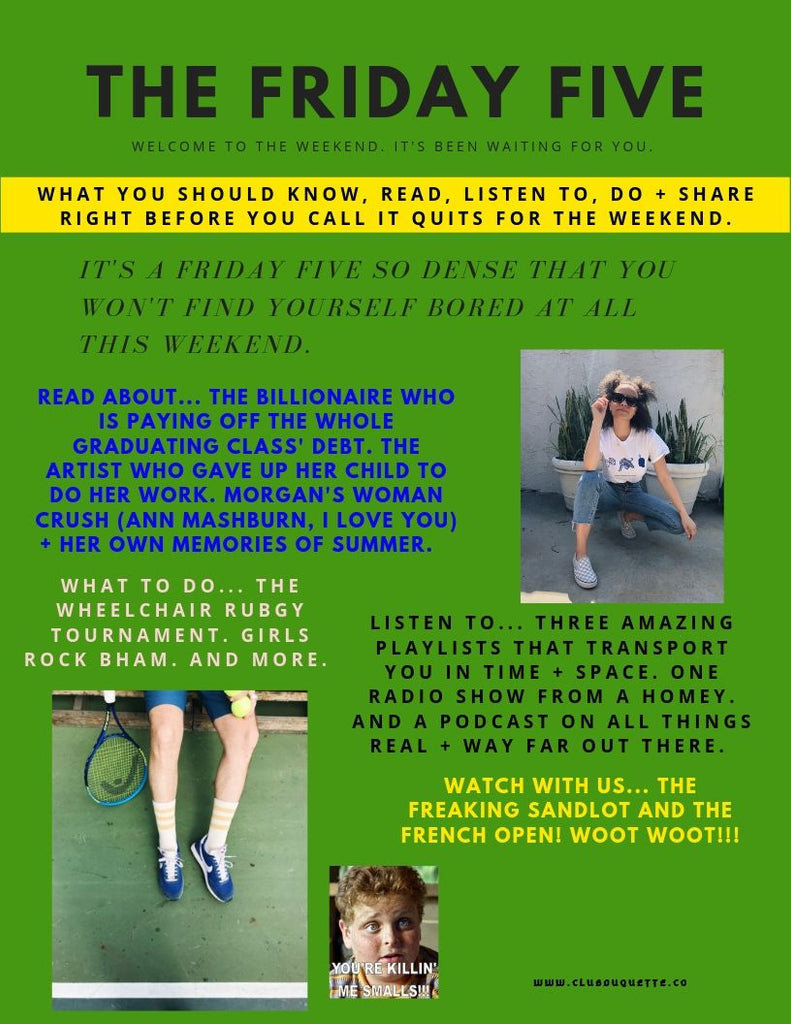 It's a special Memorial Day weekend edition with a little extra reading and listening and things to do because it's rare and special that we get time to pause. And let's remember that Memorial Day is an opportunity to give pause and respect for the people who have served our country. 
1// What we read this week that was awesome...
+Robert F. Smith, a tech billionaire and the wealthiest African-American man in the U.S., surprises the graduating class of Morehouse College in Atlanta, pledging to pay off ALL of their student debt. 
+Read about the female artist who gave up her daughter to pursue her art and create community during the 1970s-80s practice of erasing the work of black female artists. 
Mammy's Little Coal Black Rose, from Billops's Minstrel series, 1992. Courtesy of Brandywine Workshop and Archives
+Morgan's limitless love of Ann Mashburn can be best understood by reading her blog, "You Need This...I Promise: Essentials + Encouragements From an Ex-Fashion Editor."  
+Speaking of Morgan, she wrote about the magic of Summer and lowering your expectations (with a few of her favorite things in the shop right now, too). 
2// What to listen to over the weekend...
+ Duquette's playlist. For when you're feeling like shaking it. Just because. 
+Morgan's playlist, that is especially reminiscent of how she remembers her summers during the 90s, dreaming of being a grownup, watching too much Real World and laying poolside at the Jewish Community Center. Play this while you wax nostalgic in a silly looking pool float. 
+Esme's playlist. Esme is one of the fam. Maybe you've seen her in the shop or modeling for us. Play this upbeat and high vibe mix for that morning "getting ready for the day" dance party in your room you've been needing.
+Our homey AP Suaze has the best radio show, Pastime Paradise. Idris Muhammed, King Krule, Cal Tjader... it's got that rhythm that is so right, right now. Play this while you're grilling. 
+The Unbroken Chain podcast...Sacred Elders, Marianne Williamson, psychedelic ceremony, healing trauma and more. This is the GOOOOOOOD stuff. Listen to this on the solo road trip just out of town. Sun roof open. Shades on. 
3// Get your ass in a pair of 501s. Because they turned 146 years old this week and we are giving you 25% off your Levi's 501 Purchase. Seriously. It's a rad situation. No one does blue jeans like Levi's. Ladies, the 501 Crop is the classic French girl blue jeans and they look great on 99% of the people who try them. Guys, the Levi's Made and Crafted Japanese Selvedge 501s are DOPE. 
4// What we are watching...
+The freaking French Open!!! Kicking off that tennis grand slam season!!! WOOT WOOT!
5// What to do around Birmingham this weekend...
+Four Nations Wheelchair Rugby Tournament, now through Sunday. Four of the top five wheelchair rugby teams in the world will battle in Birmingham before heading to the 2020 Tokyo Paralympic games! AND IT IS FREE. 
+FUNK FEST at Legion Field is this Saturday, featuring BellBivDeVoe, Monica, Young Jeezy and more. 
+Concoction Class at Studio Good Light this Saturday 2-4pm. Learn how to make a refreshing Toning Spring tea and cleansing vinegar with fresh ingredients easily found in MOST backyards.
+Girls Rock Birmingham is having their annual art auction this Sunday 2-5pm. This incredible organization provides girls around the city with the opportunity to learn team building, business, songwriting, music "herstory," and more. We love and support Girls Rock every chance we can get, and we hope you will, too!
+Try to ride in a convertible. Because it's liberating. Always take the convertible when you have the opportunity. And wear your sunscreen.