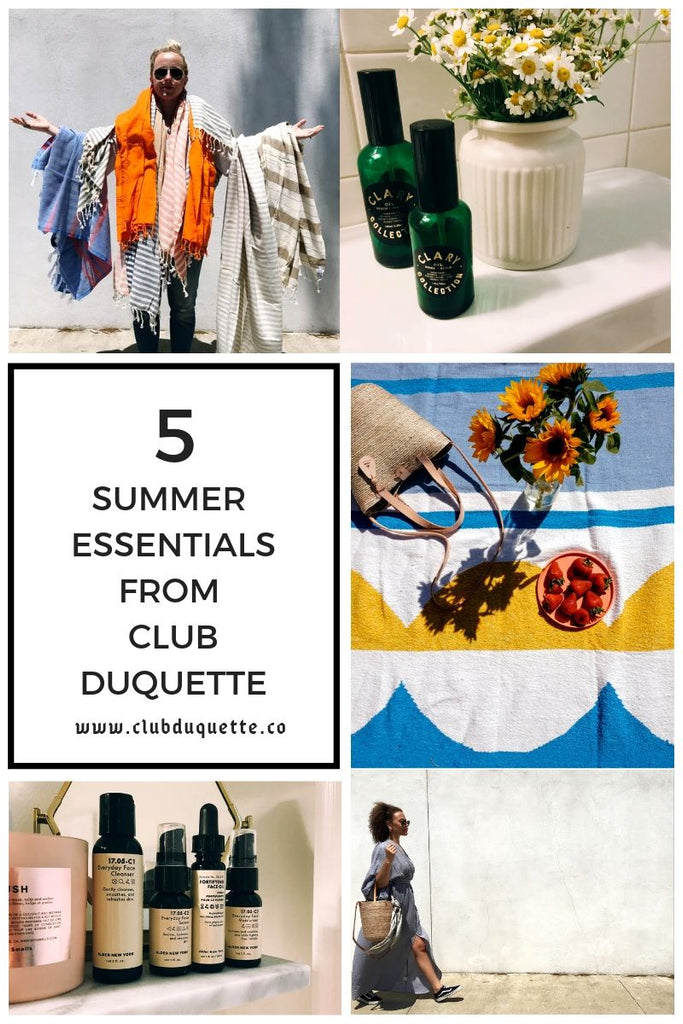 This week kicks off Summer break for most here in Alabama. And whether or not you have children, there's something nostalgic about these days that are so hot and humid, when the sunshine lasts until 8:30pm and the lightning bugs and cicadas and frogs make a real show of everyone's back yards. 
It transports me to every Summer of my memory-- last minute weekend beach trips to Panama City in the 1980s. Climbing trees and nature forts and days spent running around my neighborhood with a gang of friends on their bicycles. Six Flags and so many pool days and so much dreaming, because the imagination can go wild when there's a little space and change of pace. 
Summer in the South is special. Duquette says that the heat makes people go a little crazy and get a lot more creative. I agree. 
I must add, times are so different now and so many kids may not have the freedom to roam free range like many of us did in our childhoods. And so many more households have two full-time working parents. People ask us all the time how we do it. 
Let me share this little secret with you. I lower my expectations. 
I LOWER MY EXPECTATIONS. 
Y'all, I am such a perfectionist and natural overachiever. I typically operate at one speed: full throttle. I was not always that way, but when I had a child and began growing a company, a switch flipped! I am the person who gets up before dawn to get in a few hours of highly efficient top level work. I sequester myself to a room for silent focused effort and get a week's worth of stuff done in three hours. I hold myself to crazy high (ahem, often unrealistic) standards and when it goes for too long, I can get pretty tense and bent out of shape. (Like, literally. My body will get seriously out of alignment and it effects my whole nervous system.)
So I am going to let myself off the proverbial hook just a little. I am going to be more present with the experience of Summer vacation with our son. Because he's five and next year he will be bigger and less interested in hanging out with me. I love Summer and all it stands for-- adventure, a slower pace, more fun and the notion that around every corner could be something magical. 
Here are five things I will be using all Summer, all conveniently from Club Duquette. 
1// The best Turkish towels we've ever found. They come in an utter rainbow of popping colors. They're lightweight and quick drying and make SO much more sense to throw in the bag you're schlepping to the pool or beach. You know, the bag that holds everything for EVERYONE. These towels are so generously sized. They look great when you get a few matching or go crazy and let everyone pick their own. (I love opening my linen closet and seeing stacks of different colors and patterns, all folded to the stack beautifully.) And they're only $36 and will last YEARS. Use as your beach blanket, a makeshift picnic blanket, a sarong, a wrap skirt, tie the opposite ends together to carry all your wet swimsuits home. I've even been known to wear one as a giant scar when I've gotten too much sun and can't quit shivering. 
2// Speaking of getting too much sun... Clary Collection oils and balms. They're made using plant-based ingredients that have incredible low key medicinal properties. Like lavender and plantain-- great for burns! I religiously use the Repair and Renew oil. It smells amazing (like orange blossoms) and DEEPLY nourishes skin. Keeps me baby soft. If you prefer something without a scent, the OG Bath and Body oil. And The Balm is my favorite multitasker, ever. I use it on Tennessee for burns and scrapes and bites and dry skin. 
And I use it on myself for my lips and cuticles and as an eye balm (it has made my eyelashes grow!!)
3// Everyone needs a great bag and a great blanket, ready at all times. You never know when you'll get the call to join a friend for a picnic in the park or a last minute road trip with gas station snacks and the open highway. Also, as dang hot as it gets here, there comes a point that the accessories are your style game. The rest is just being s close to naked as possible. We love Nipomo! A family-run business of Mexican Americans. The mom and daughter design on the California side and it's all handwoven using old artisanal Baja weaving techniques in Mexico. They recycle fabric waste to weave the blankets, so rad. This purse is our runaway bestseller of the year and we only have a couple left! 
We've also used one of our Nipomo blankets as a bedspread for Tennessee and the guest room. It's fun and poppy. 
4// Back to skincare for a moment. I am not sun bunny, by any means. My natural complexion is super fair and Summer sunshine gives me a golden glow if I hover near burned and then it quickly dissipates. Since I will officially be in my mid-30s this Summer, I have REALLY been thinking a lot about taking better care of my skin. For vanity and the prevention of skin cancer. That means wearing sunscreen every day, whether I am at the pool or just driving around town. And then taking really good care of my skin at night. We recently brought in a new vegan, genderless, clean skincare line called Alder New York. AND IT IS MIRACULOUS. I use the whole line and my skin looks and feels incredible. 
This is for real my bathroom shelf. 
5// DRESSES. This is the first year we've had women's dresses, and my goodness they've been a runaway hit. So much so, that they completely sold out in the first weekend. Don't worry, more arrive next week! These are made of Turkish cotton, bamboo and silk. They're universally sized and fit most bodies. And they look amazing! They are perfect for those weekender bag trips, where you need a dress that goes from day to night to beach to car. Those perfect multitaskers are one in a million, it feels like. But we've got 7 of them in different styles. Because we are good at finding the one in a million. :) Subscribe to the newsletter if you want to be updated when we get more in!