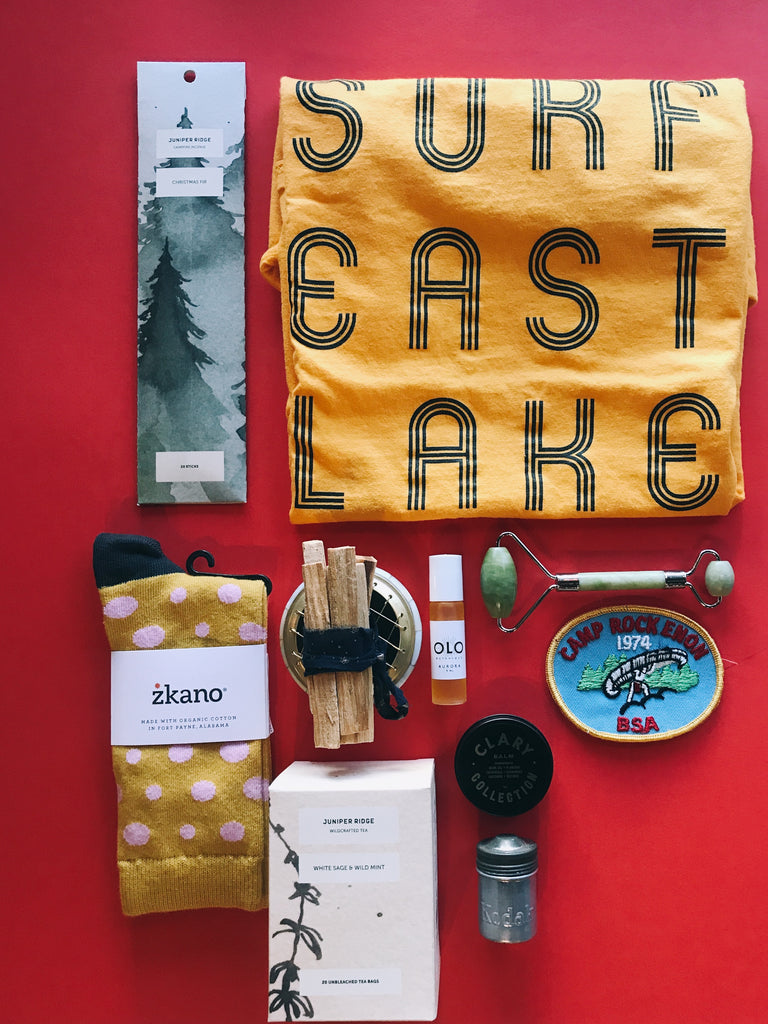 Those special little somethings under $30. Hand picked by Duquette and Morgan. 
1. Juniper Ridge Christmas Fir incense, $10. Hand-rolled using only plants and tree sap from California, this incense is like having a West Coast Christmas tree, fresh in your living room. You'll want to burn it well into the new year.  (We've also got some of their RAD gift sets!)
2. SURF EAST LAKE t-shirt, $27.50. Get the first shirt from our 2nd generation collection. 6 oz. cotton with our signature finishing processes. And introducing our new women's cut!
3. Zkano socks, $16-$30. Made in Fort Payne, Alabama using certified organic cotton and low-impact dyes, these socks are the best in the game. And it's a family business we love. 
4. Palo Santo bundle and burner, $12-$24. The perfect stocking stuffer or small gift. It smells great, has a really great story to share and that burner can be used for stick incense or as a ring dish beside the bed. 
5. OLO Aurora, $25. One of our favorite chemical-free fragrance lines has created two essential oil blends that are AMAZING. Aurora wakes you up. Somna helps you relax. Guess which one we are using! (Duquette is Aurora and Morgan is Somna.)
6. Clary Collection Balm, $17.50. The all-purpose all-natural use it anywhere and on everybody balm. Everyone needs one of these. 
7. 1940s Kodak film canister, $7. You know, to hold small amounts of things in an airtight capacity. Available in-store or by phone. 
8. Juniper Ridge White Sage and Wild Mint Tea, $13. Hand picked herbs create this amazingly cozy tea. The mint has a natural sweetness to it. Pour a little Bourbon and you've got yourself something extra. 
9. Jade Roller, $28. Available in-store and by phone. 
10. 1960s-70s Boy Scout Patches, $5 each.  Available in-store and by phone. 
Let us know if there's anything we can do to make your holiday merry and bright (and a little easier, because we all need that!). With love, Duquette and Morgan