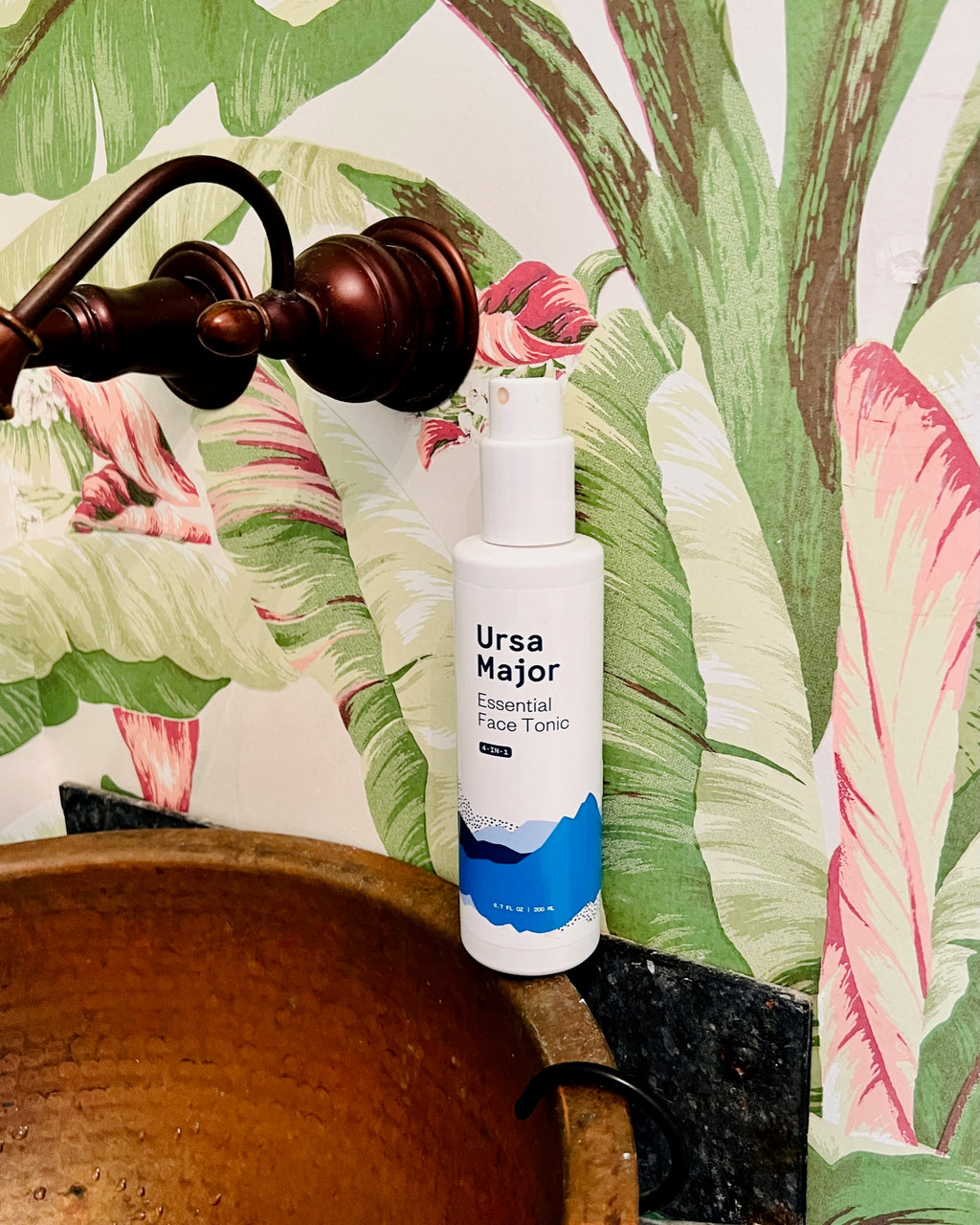 Ursa Major's most versatile product, the 4-in-1 face tonic cleans, exfoliates, soothes and hydrates - leaving your skin feeling refreshed, firm and alive. Used daily it'll deliver clearer, brighter, calmer-looking skin. What's not to like?
Notable ingredients (and what isn't):
Aloe- soothes and hydrates
Sugarcane- natural source of glycolic acid, which brightens and clarifies
Birch Sap- reduces the appearance of redness and uneven skin
Green Tea- rich in antioxidants to promote healthy skin
Willow Bark- natural source of beta hydroxy acid, which gently exfoliates and soothes skin
Sodium Hyaluronate- helps skin retain moisture to reduce the appearance of fine lines and wrinkles
No petrochemicals, SLS, SLES, parabens, synthetic fragrance or color, glycols, silicones or PEGs
Cruelty Free
Vegan
Tips and tricks for use:
This wonder product can fill many roles in your skincare routine— whether you need a traditional toner, aftershave splash or "lazy am/pm face wash", this product's your gal. It works great on all skin types and lasts over four months, even with daily use. Pair with the Essential Face Wipes for a consistent routine; after all, they have the same formulation! 
Aroma/scent notes:
Delicious, refreshing aroma with orange, lavender and fir
Ursa Major's Plastic Negative Campaign:
Ursa Major is proud to be the one of the first Plastic Negative clean skincare brands! In partnership with rePurpose Global, UM is two plastic bottles from nature for every bottle we sell, as part of our mission to help raise the bar for responsibility in our industry. 
UM dedicates a percentage of every purchase to a plastic offset through rePurpose Global. These funds will support our chosen waste management partner, Taka Taka - an organization in Kenya that ethically recycles low-value plastic waste (low-value plastic is the plastic that would otherwise be landfilled, burned, or flushed into waterways and oceans). Taka Taka is the only waste collector in Nairobi with a vertically-integrated system, meaning they manage the entire end-to-end process from collection to recycling. As if recycling could be any cooler, they have achieved one of the highest recycling rates in the world at 95%!
To read more about Ursa Major's plastic recycling and plastic conservation efforts, click here.