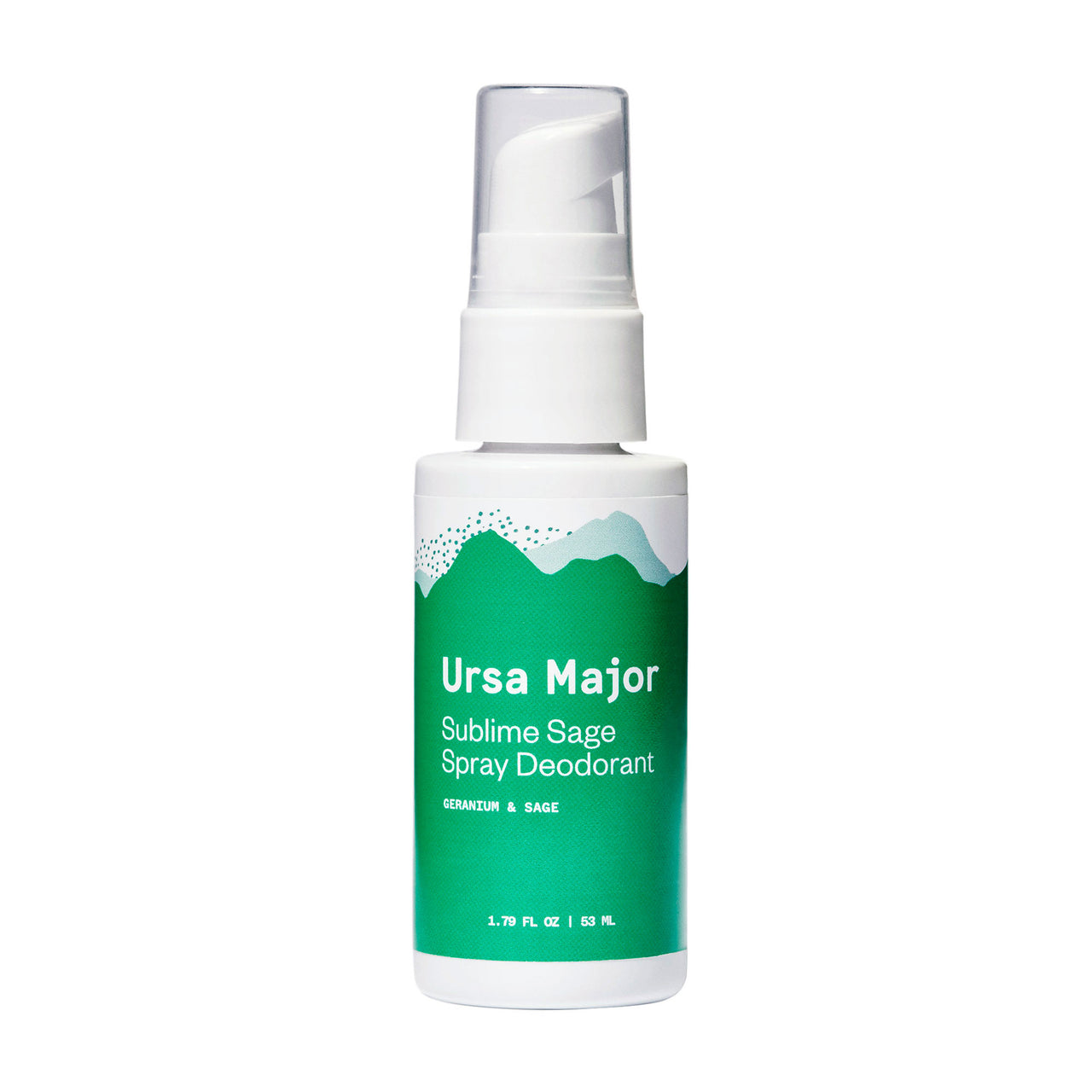 This award-winning, natural deodorant eliminates underarm odor while absorbing excess moisture and soothing sensitive skin. Its reliable performance, healthy ingredients and invigorating aroma will keep you fresh all day long.
Notable ingredients (and what isn't):
Sage- a
Lemon Myrtle- a
Saccharomyces Ferment- probiotic enzyme with potent odor-absorbing properties
Geranium- a soothing oil with powerful antioxidant properties
Undecylenol glycine- d
No aluminum, petrochemicals, SLS, SLES, parabens, synthetic fragrance or color, glycols, silicones or PEGs
Gluten free
Cruelty free
Vegan
Tips and tricks for use:
This deodorant has a classy baking soda-free, non-staining formula, and its easy to spray packaging is great for a non-greasy feel. You should expect a cool, tingly sensation on application. The compact size and bottle cap make it perfect for on-the-go! 
Aroma/scent notes: Sage, Peppermint 
Ursa Major's Plastic Negative Campaign:
Ursa Major is proud to be the one of the first Plastic Negative clean skincare brands! In partnership with rePurpose Global, UM is two plastic bottles from nature for every bottle we sell, as part of our mission to help raise the bar for responsibility in our industry. 
UM dedicates a percentage of every purchase to a plastic offset through rePurpose Global. These funds will support our chosen waste management partner, Taka Taka - an organization in Kenya that ethically recycles low-value plastic waste (low-value plastic is the plastic that would otherwise be landfilled, burned, or flushed into waterways and oceans). Taka Taka is the only waste collector in Nairobi with a vertically-integrated system, meaning they manage the entire end-to-end process from collection to recycling. As if recycling could be any cooler, they have achieved one of the highest recycling rates in the world at 95%!
To read more about Ursa Major's plastic recycling and plastic conservation efforts, click here.