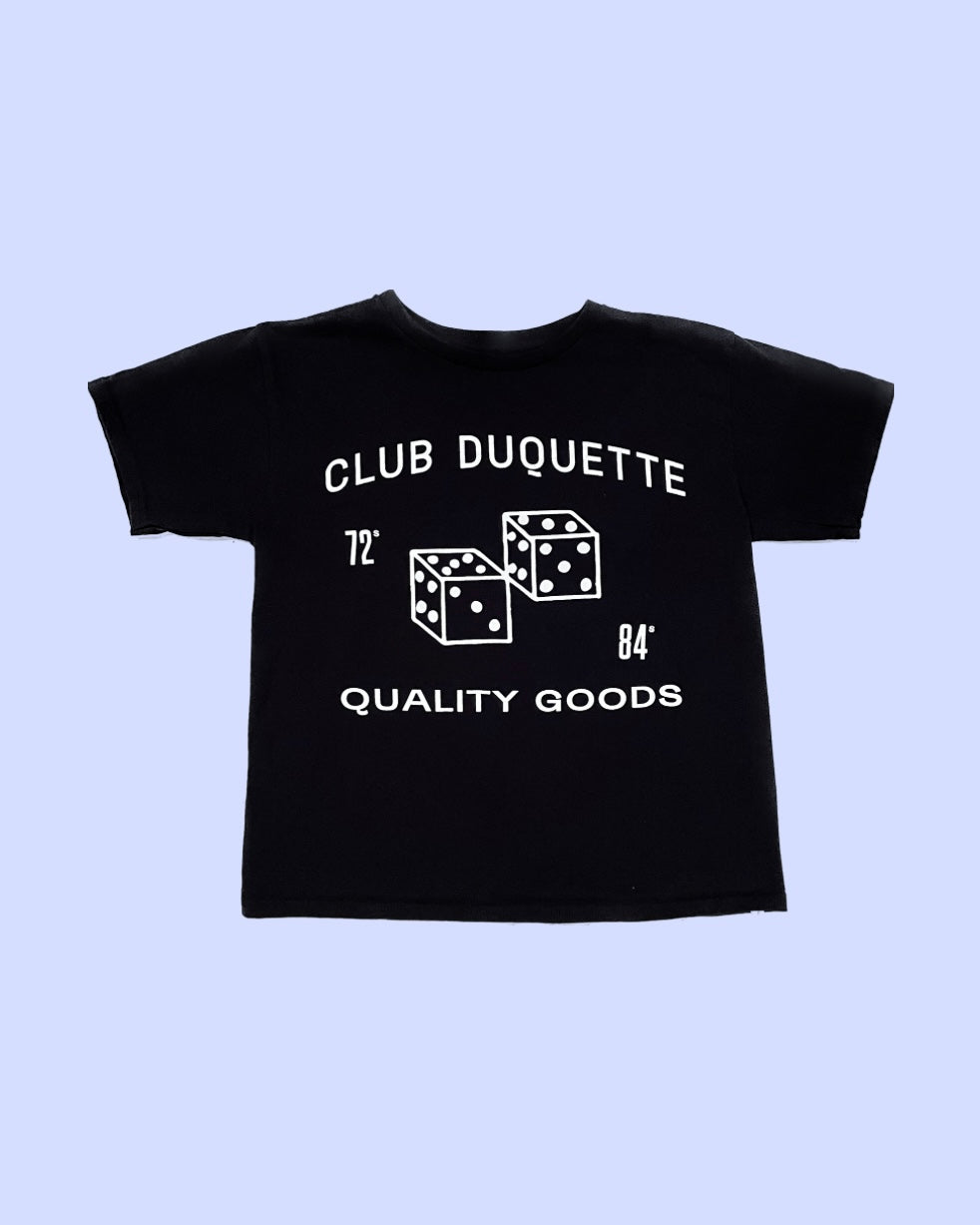 The Club Duquette ROLL THE DICE shop graphic tee is a vintage inspired unisex t-shirt made from 100% cotton. We believe you have to roll the dice and see what happens in life. Before Club Duquette existed Morgan and Duquette would spend Friday nights bowling with friends at an old bowling alley until 2 in the morning every Friday . The Dude did say "Fuck it lets go bowling". Get out there and roll the dice. 
We wash this t-shirt to break it in, give it some extra softness and make it  comfortable, and durable. The unisex fit means that it can be worn by anyone. The t-shirt is perfect for showing off your love for Club Duquette, and it makes a great souvenir or gift for any fan of the club. Whether you're wearing it out on the town or just relaxing at home, the Club Duquette Souvenir Shop graphic tee is sure to become one of your favorite shirts.
REP THE SET 
This is a limited edition print. When they are gone they are gone. 
Specs: This on is a 5.5 oz. 100% cotton t-shirt. It's tubular (meaning no side seams). We break them in for you using our signature finishing processes so it feels like your favorite t-shirt from 1994 (but with a better fit). They're pre-shrunk/pre-washed and feel really good. It's magic fabric, so tug it here or there to give it the shape you want without leaving silly fingerprints.
Size Chart (inches)*: 
| | | |
| --- | --- | --- |
| Size: | Pit to pit: | Length: |
| XS | 18.5 | 21.5 |
| S | 17 | 22.5 |
| M | 19 | 23.5 |
| L | 21 | 24.5 |
| XL | 22.5 | 26 |
| XXL | 24.5 | 27 |
*Please note that our size measurements reflect our Club Duquette signature finishing processes. Also, due to sizing restrictions on our t-shirt blanks, measurements for XS and S sizes do not increase in a typically incremental way. We encourage you to evaluate and measure your body type and sizing to ensure you order your perfect fit. If you are unsure which size will fit you better, feel free to reach out to us and we will be eager to help you find the right size.