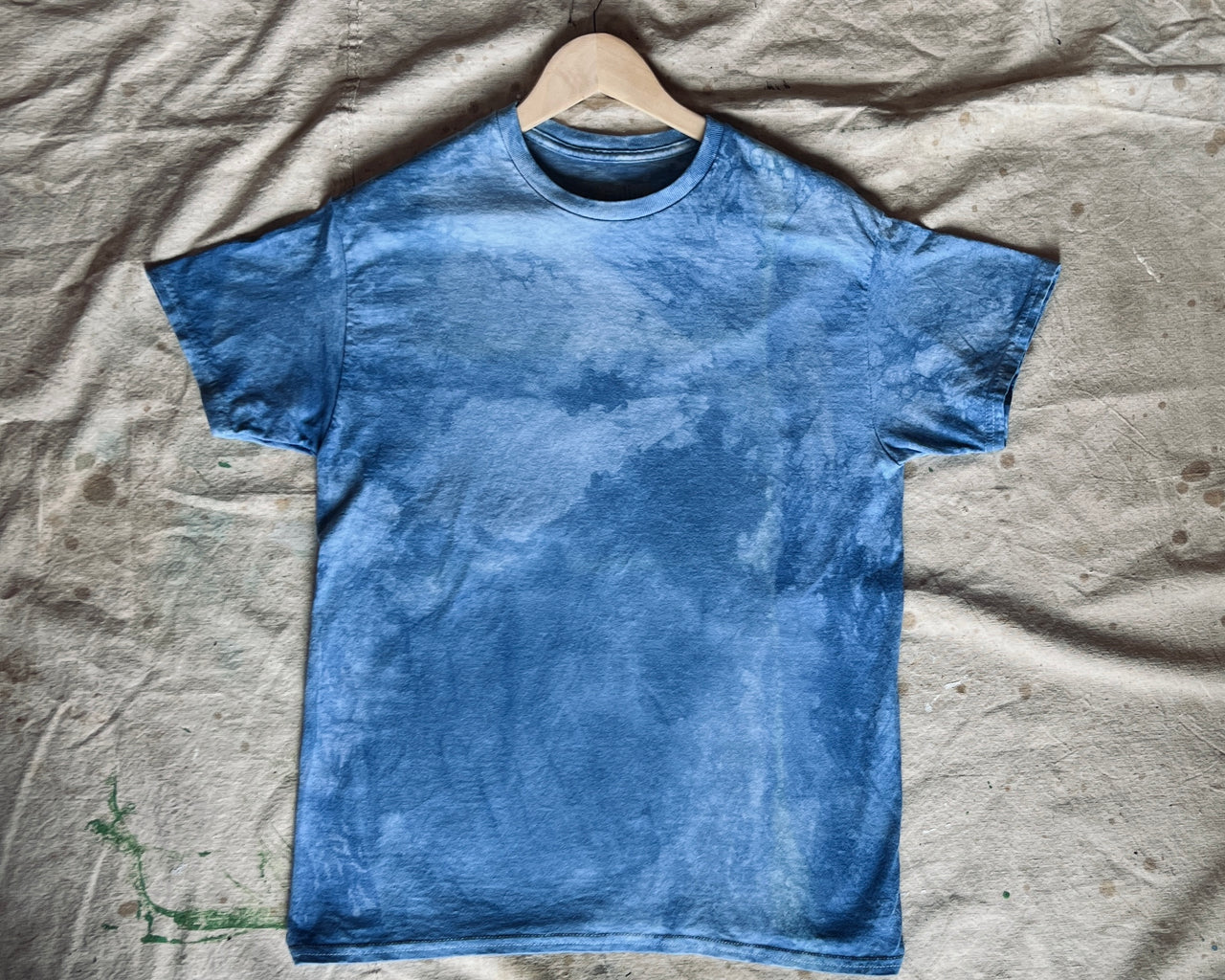 DESCRIPTION: We've been working with indigo for six years now, which is so crazy. Each dip we learn more about the process and ourselves. (When you spend days at a time bent over a vat, you have some time and space to think about a lot of things). 

It's everything you love about our in-house t-shirts and their super soft, broken in feel. 
No two shirts all the same. They have all been individually hand dipped in our backyard. Just be aware the patterns and darkness of the indigo will vary from t-shirt to t-shirt. 

This is a 6 oz. 100% cotton t-shirt. It's tubular (meaning no side seams). We break them in for you using our signature finishing processes so it feels like your favorite t-shirt from 1994 (but with a better fit). They're pre-shrunk/pre-washed and feel really good. It's magic fabric, so tug it here or there to give it the shape you want without leaving silly fingerprints. 
Size Chart (inches)*: 
| | | |
| --- | --- | --- |
| Size: |  Pit to pit: | Length: |
| XS | 18.5 | 21.5 |
| S | 17 | 22.5 |
| M | 19 | 23.5 |
| L | 21 | 24.5 |
| XL | 22.5 | 26 |
| XXL | 24.5 | 27 |
*Please note that size measurements reflect our Club Duquette signature finishing processes. Also, due to sizing restrictions on our t-shirt blanks, measurements for XS and S sizes do not increase in a typically incremental way. We encourage you to evaluate and measure your body type and sizing to ensure your t-shirt is the perfect fit. If you are unsure which size will fit you better, feel free to reach out to us and we will be eager to help you find the right size.