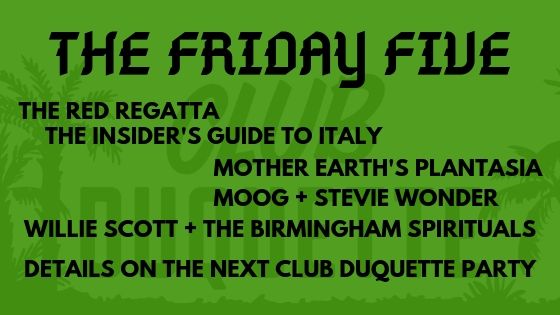 It's good to be back on The Friday Five after a couple weeks break. It's Summertime. The days can be unpredictable, but here we are again. Bringing you the coolest stuff we found on the Internet this week. 
Let's get into it...
1// THE RED REGATTA. Red Regatta is an independent public art project created by artist Melissa McGill that activates Venice's lagoon and canals with large-scale regattas of traditional vela al terzo sailboats hoisted with hand-painted red sails. It celebrates the city's maritime history and calls attention to the forces of climate change and mass tourism that threaten its future. And it is POWERFUL. You can experience it through November if you happen to be in Venice. 
2// Speaking of Italy, have you heard about YOLO Journal's first quarterly that just dropped? Each issue focuses on a different destination and this one is all about ITALY. Photo essays, insider guides and more, this publication is proof that print is not dead! 
3// COOL STUFF ABOUT PLANTS THAT ALL PEOPLE SHOULD KNOW. In the 1970s this guy set up a bunch of Moogs in his Laurel Canyon home and recorded an album called Mother Earth's Plantasia, a record just for plants. It was only sold though a little plant shop called Mother Earth on Melrose Avenue in L.A. and also came free with the purchase of a Simmons mattress from Sears (why?? I have no idea! What a weird and awesome history!)
This article goes on to talk about Stevie Wonder, The Secret Life of Plants, way out there 1960s Aquarian Age stuff and it's just what you need on a summer day that is sweltering to the point of hallucination. 
Also, the other day I got this random alert on my phone that was a simple notification that trees communicate to each other during times of danger via an underground network of fungus. MY MIND WAS BLOWN. Well here is the science of it. EFFING COOL. FYI: it's called mycorrhizae.
 4// WILLIE SCOTT + THE BIRMINGHAM SPIRITUALS. Luaka Bop (the record label of David Byrne) is releasing their second installment of the World Spirituality Classics series, The Time For Peace is Now. It's powerful.
"The compilation captures a snapshot of a unique period within gospel, when a secular strain of the genre sprung up towards the end of the music's first golden age. Largely unearthed from obscure 45s found across the American south, the collection presents a 'subset of seventies-era gospel, focusing not on Jesus or God, but instead on ourselves, and how we exist with each other.'"
5// HEAD'S UP!!! WE ARE THROWING OUR HOT AF SUMMER GETDOWN AT CLUB DUQUETTE NEXT FRIDAY 7/19 7-10pm! Mark your calendar with an alert. It's going to be hot!!!! DJs, a special one-off set played by Duquette Johnston himself! Art and floral sculptures by Holly Carlisle of Rose Golden. Cocktails from Cathead Vodka, beer, giveaways, food truck and more. They're a ton of fun. And make this silly heat down here make a little more sense. Because Summertime is all about the gatherings.