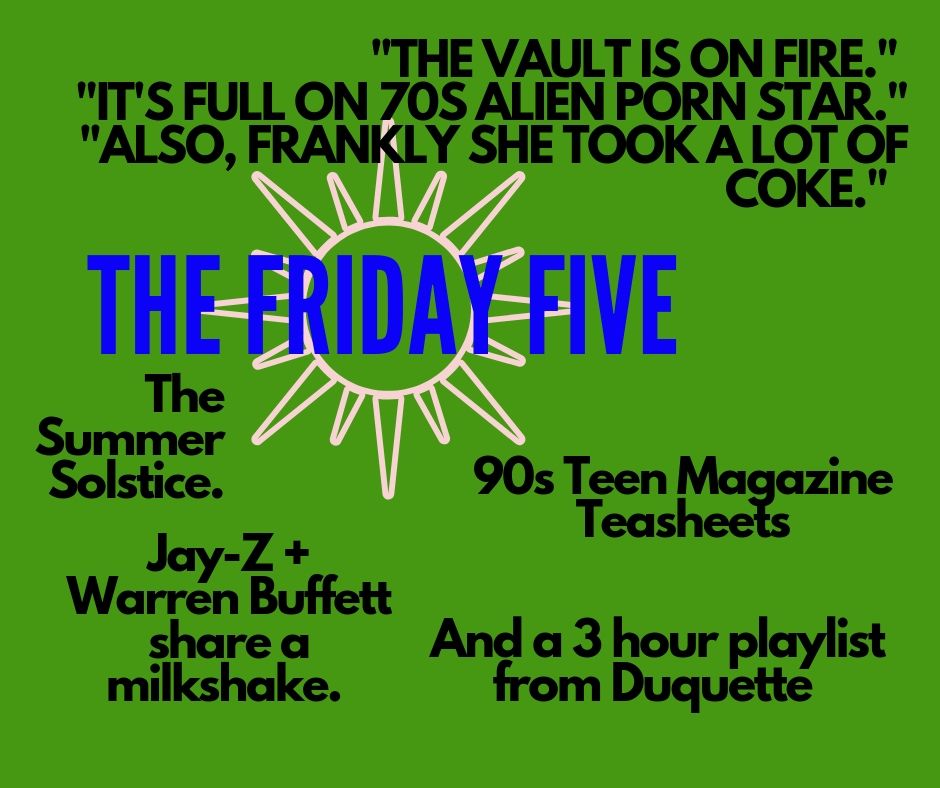 1// Lo, and behold... IT'S THE FIRST DAY OF SUMMER! Today is the actual Summer Solstice. What does that mean? That you should get naked and dance under the sun at 9:00pm, surrounded by fireflies and lookers-on, of course. (Just kidding. Maybe.)
The Summer Solstice is the longest day of the year and some say it's a great time to let go of the things that aren't really serving you being your best self and to paint some clear intentions for what you want to make happen and see happen in your life. 
If you're interested in the science of it, read this. If you want something a little more woo woo, read this. And if you want to know what they do in Greece and Scandinavia on this day, click here. 
2// You may be surprised to know that at Club Duquette, we often look to leaders in the hip-hop community as examples of business people doing the things, building community, diversifying one's offerings, owning your own business, defying traditional paths to success, redefining what success is. One of our favorite dinner table questions to ask is, "If you could achieve the success of Jay-Z and Beyonce, would you do it?" (Want to know our answer? Send us an email! clubduquette@gmail.com)
Here's a breakdown of Jay-Z's billionaire status and achievements. Warren Buffett had lunch with him and later said, "Jay is teaching in a lot bigger classroom than I'll ever teach in. For a young person growing up, he's the guy to learn from."
3// Your weekly almost weekend reading...
+ "THE VAULT IS ON FIRE." The most devastating day of music history, the 2008 fire at Universal. 
+"IT'S FULL ON 70s SPACE ALIEN PORN STAR." Rick Owens on wearing sunglasses inside and emailing in all caps. <-- If a pull quote wins the Internet, this is it. 
+"She had this collection of sports memorabilia. She had a sort of museum in her basement full of signed baseballs and Lakers shirts. I just couldn't relate. And also, frankly, she took a lot of coke." Anjelica Huston talks about all sorts of things and it is DELICIOUS. 
 4// THANK YOU ATOOSA. This Instagram is tear sheets from 90s-early aughts teen magazines. This is Morgan, and I was a child of 90s fashion. Give me sky blue Hard Candy nail polish, Delia*s catalogs and YM and Jane magazine all day long! I used to take my grandmother's issues of Harper's Bazaar and clip pictures out of them and tape them to my walls. (90s Bazaar was the best editorial style EVER.) 
 5// Duquette went overboard. "It started off as like 60s psych rock and I've added so much stuff. It's like a three hour playlist. I'm about to stop." LISTEN TO IT HERE.