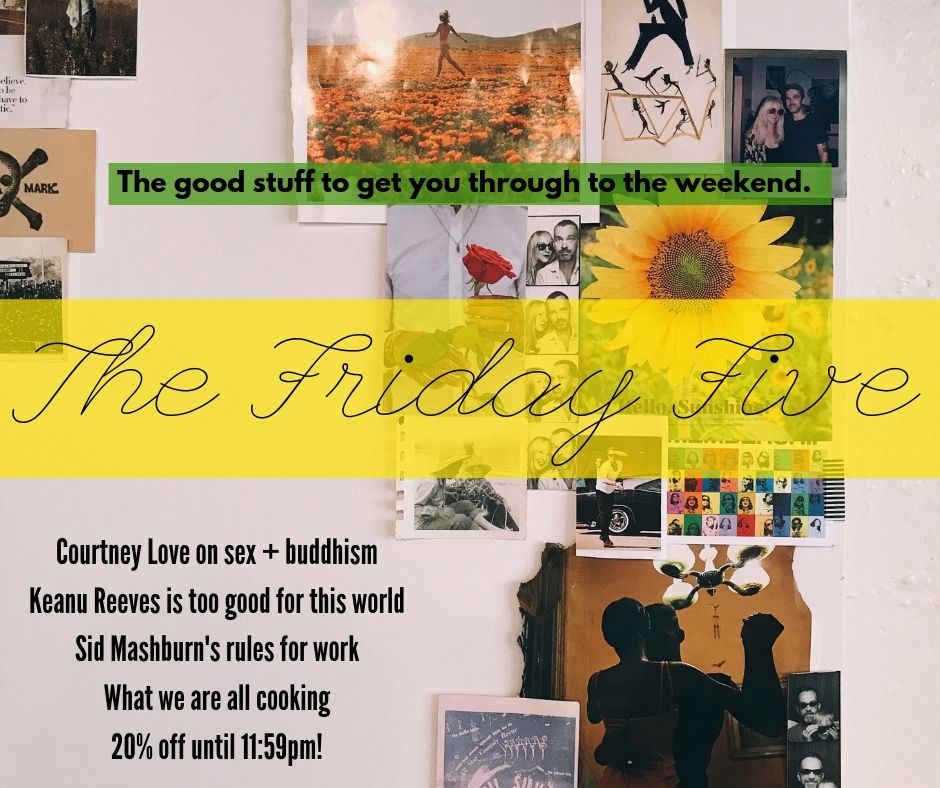 Welcome to the almost weekend, my friends! 
Let's just get straight to the good stuff...
1//What we are reading...
20 Questions with Courtney Love, asked by other celebrities-- Tom Ford, Lana Del Rey, Aaron Sorkin, Gwyneth Paltrow, Marilyn Manson and more. We are talking buddhism, sex, Kurt Cobain, addiction, inspiration... It's a juicy read to say the least.
 Keanu Reeves Is Too Good For This World. Coincidentally, he's also a bit of 90s nostalgia, but this is a good cultural take on his sadness, his wisdom, his appeal, even after all these years. 
One of the people in the industry that we look up to the most is Sid Mashburn. He just launched an advice column and more than a couple quotes made it onto our office mood board. 
The Four Agreements, a conversation with Don Miguel Ruiz. 
2// I'd be remiss to not mention here THAT WE EXPANDED CLUB DUQUETTE!!! It's been a magical ride and we talk about the history and process more over on our Instagram... but join us in the shop or here in this virtual community and enjoy 20% off all purchases until 11:59pm tonight! Just use code EXPANDED at checkout. 
 3// What we are cooking...
Esme, our head of the shop and resident vegan is super stoked to make these vegan chocolate chip banana waffles this weekend. It would be very tasty with that ILA Maple Syrup in the shop right now. Just saying. Been waiting on a restock of our ILA salts? They're on the way!! Email us if you'd like us to hold one for you!
Speaking of Esme... she just launched a YouTube page that we are so excited about. The first video is all about clean vegan skincare. (BTW, all of the skincare products at Club Duquette are clean (free of harmful chemicals). And all are vegan, with the exception of the Ursa Major deodorant, which has some bee by-products in it.)
Morgan basically eats according to the auto-immune protocol and basically prepares all her food. Here are her two favorite things she's been making this Summer...
4// Something to pause and take in...
5// HAPPY FATHER'S DAY WEEKEND! Here's a playlist from Duquette, capturing all those good dad vibes.