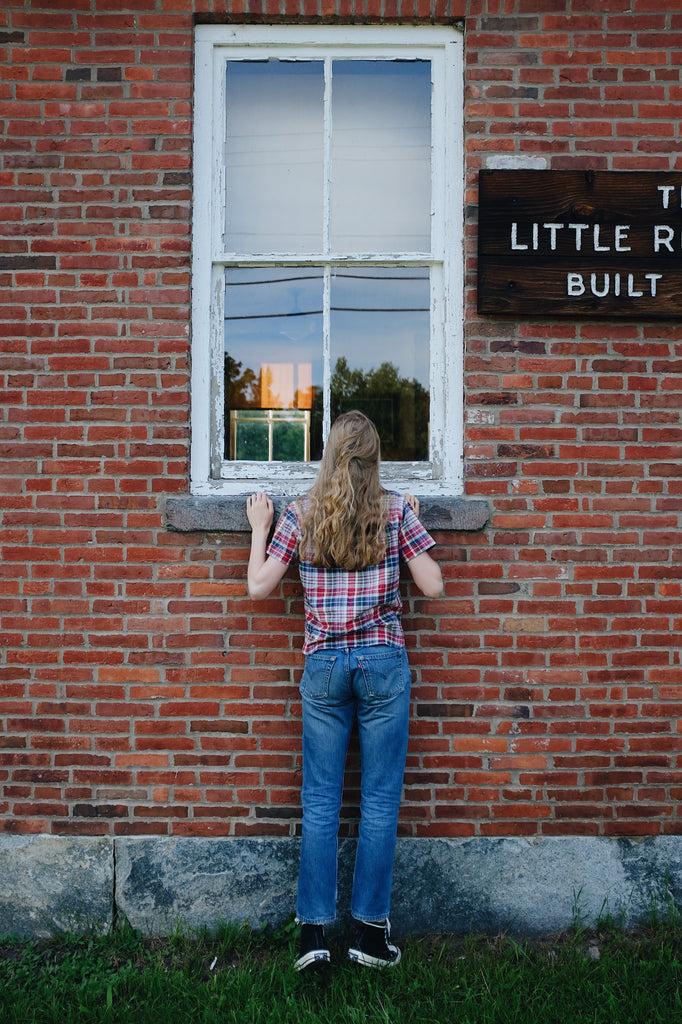 Lulu Graham and I met standing on a sidewalk in NYC, waiting on the same person. She walked straight up to me, held out her hand and said, "I'm Lulu Graham. You're Morgan." And I was instantly smitten with this 19 year old style icon. And then later that night I met her mother, Rebecca Graham and basically I want to just nuzzle myself into this family of go getters, style setters, art makers and get it done shakers. 
Anyway, Lulu gifted me a shirt from their line, Wells that very night on the sidewalk in NYC (outside a Jamaican wing spot blasting trap music). And I've basically lived in it ever since. Inspired by Lulu's camp uniform (yes, sleep away camp!), it reminds me of what my grandmother's would have worn in their youths, while road tripping to postcard locations. 
 We are so excited to have them in the shop now. And you should really, reallllly get one now. Because you will wear it over and over and over and over. 
5 Questions with Lulu Graham:
1// What is your favorite heritage brand and why? Favorite new brand and why? How do you see them intersecting?
Favorite heritage brand?! That is such a difficult question! My closet is 90% heritage brands; I guess you could say I'm a real die-hard for the classics! My uniform consists  of Red Wings, a vintage Champion sweatshirt, Levi's, and a Filson or LL Bean bag. Everything I own and buy, you could purchase before the '90s. I prefer clothes I can run around in, nothing too precious, which usually leads me back to the heritage brands.
I love what Emily Bode is doing right now. I love seeing women interested in the menswear world and approaching it historically. I grew up going to antique markets with my family and learning about my family's old clothes from my grandmothers. I have a real love and respect for how Emily is weaving fashion and history.
I think Bode and heritage brands intersect in a charming way, I hope Wells fits into this category one day. The love of historical garments is alive and well in fashion right now; I don't see it slowing down. I think people are slowly starting to invest in clothes again. The clothes I value the most aren't the pieces worth a lot of money; for me, it's my grandmother's high school sweatshirt or sweater my great-grandmother knit. I like everything I wear to have a story!
2// Three most impactful style moments for you in film.
Every scene in the 1961 version of The Parent Trap has had a significant influence on my style over the years. The uniforms are arguably the only reason I went to my summer camp. I went to Camp Merrie Woode in Sapphire, North Carolina, and the uniforms we wore there are identical to those in the film. I remember turning the corner the day I first visited, seeing the uniforms, and instantly falling
in love. I'm a true homebody and never thought I'd go to camp, let alone for five weeks each summer!
I guess I really love clothes, history, and tradition; the uniforms are what sold me. In the movie, there is a scene where both girls are wearing matching grey short sleeve sweatshirts and jeans; it's effortless but so incredibly great.
In terms of new movies, 20th Century Woman is beyond beautiful. Elle Fanning's
outfits are admirable; the plaid shirt, the blue cords, and ratty Tretorns! Not to mention the great outfits from the male characters in the film, lots of great old band t-shirts.
I think Jake Ryan in Sixteen Candles set a pretty high standard for … everything, but the plaid shirt he wears is iconic!
3// Tell me the story of Wells.
Wells started because of my love for summer camp, particularly camp uniforms and summer camp history. A few years ago, my summer camp started posting photographs from the archives; something about these photographs made me fall in love with camp in a whole new way. When I was looking through all the old camp photos, I noticed that all the girls were wearing short-sleeve plaid
shirts. I instantly fell in love.
For years my mom and I would joke about wearing my actual camp uniform top as a shirt, but the washed grey color never made it very appealing. I decided to make the dream shirt after learning how the Garment District worked in New York City from my internships.
I started researching camp archives, referencing old family photographs of my grandmothers, and going into the deep depths of the internet to find other archives. I started collecting camp and gym uniforms to figure out the construction.
The thing about vintage gym and camp uniforms is that they were made for activity, this is what girls would wear to play sports or go hiking. I'm a very active person and value being able to do anything in my clothes. My idea for the Camp Shirt was something that you could wear hiking but also a piece you could dress up. It's all about being versatile!
Wells is named after my sister, Katherine "Kitty" Wells, a name that came from my father's side. The script in the logo is modeled after my mother's family dairy company in Wisconsin. Margaret Elisabeth McNair did all the artwork, she's extremely talented!
4// Number one childhood memory you carry with you.
In the last three or so years, I started really listening to the music my parents would play when I was little. There are certain songs that I play that instantly transport me back to a moment. I think my parents are the coolest people ever; they taught me so much about design, clothes, music, the list goes on. I'm really thankful I paid attention!
I added some of the songs to the playlist. "We Are Family"reminds me of fall days in Highlands, NC, with my dad's side of the family. "Stay" by Lisa Loeb is my parents' song; I couldn't even guess how many times I've listened to it. My parents said my favorite song when I was a toddler was "Coconut" by Widespread Panic. Apparently, I'd really jam out to that in the booster seat! A lot of people don't know this, but I love to sing, I think I subconsciously only listen to songs I know the words to so I can sing along. That means a lot of Indigo Girls, Nanci Griffith, and Natalie Merchant.
5// Brain dump: what are you loving right now?
So many things where to start! Despite being unable to read Japanese, Fudge continues to be my favorite magazine for styling. It is all very menswear-inspired plus all the girls wear glasses, and as a glasses wearer, I love that! I'm always listening to Natalie Merchant and 10,000 Maniacs. It's forever on repeat for me. I've always been a big notebook person; I find it very soothing to write on paper. I've always loved writing lists, for starters, it's extremely helpful, but there is also something really sweet about looking back at lists from the past. I love seeing what I was into at that moment. I have notebooks going back to elementary school - it's funny reading those because I was into the same things as I am now! I post my loves daily on @outfitdissecting.