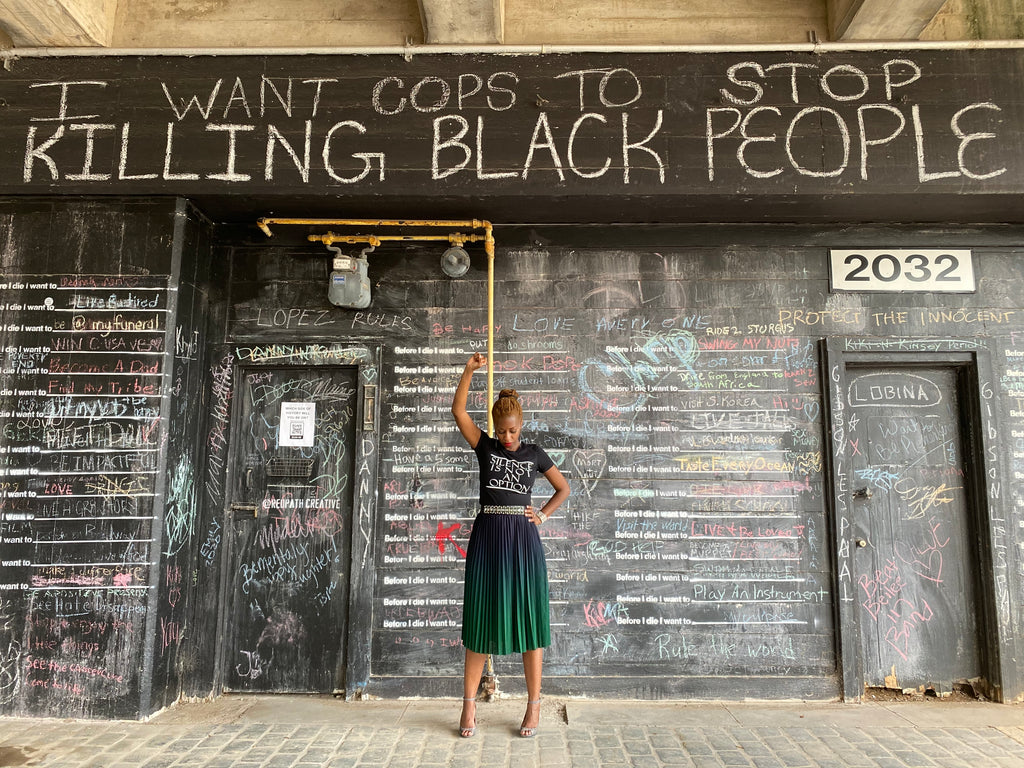 The first day we opened Club Duquette was for a test run during one of the
Woodlawn Street Markets
. The Markets have been incredible for Woodlawn and for local entrepreneurs setting up at the markets regularly and as a testing ground for business ideas. I am not sure which market it was that we met Aisha and her family, but they are always set up with their brand
Element and Vibe
. We all connected over the craziness of trying to run multiple businesses and maintain family as your priority and our youngest are about the same age and played with some toy trucks the first day they met. There is something beautiful and incredible to connect with other people and not be afraid to share the joys and struggles of personal life and business life. We can all learn from each other and lift each other up and be cheerleaders for one another to succeed in our dreams. Element and Vibe is an inspiring brand that is "Rooted in Love, Ancestry, Inspiration, and Unfiltered Truth" They are more than a t-shirt brand, they are a cultural movement, a statement, and as Aisha says "a moving force empowering people and awakening the world one garment at a time." Grateful to know her and call her a friend. Be on the lookout for more from Aisha and Element and Vibe. Get out and support your community. 
Aisha Taylor was born and raised in Birmingham, AL and is the oldest of four children. She attended the University of Alabama where she earned a Bachelor's of Science degree in Business in 1999. Throughout highschool and college, Aisha worked as a retail manager for high-end retailers and from there, began traveling throughout the country as a Sales Trainer for Ralph Lauren. She was married in 2007 and from that union, she had a son. She was divorced in 2010 but remarried in 2014 to her best friend and business partner, Kenneth. Aisha is now the proud mom of two beautiful boys. In 2016, Aisha founded Element and Vibe, a message-based t-shirt company rooted in Equality and Justice. Our mission is to awaken the world one garment at a time. We are vocal. We are committed to the fight.  
1) What was your first T-shirt design and why did you choose it?
The reason I started my company was because of the untimely, unfortunate death of Trayvon Martin. The unsuspecting death of this 17 year old kid shook me to my core. It still puts me in an emotionally state of my mind when I think about it and that was in 2012. Well, a few years later, I was on vacation in Florida and was just scrolling through social media and I roll up on a video of Alton Sterling being held down by police officers and being shot at point black range. He was selling CDs. While other unwarranted deaths of black men and women occurred between these two, the site of this put me into action. I started looking for a shirt that could scream for me; that could encompass all of my emotions. I couldn't find one so I created my own. FREEDOM.
2)

Top three beauty practices or tips or tricks?
I don't really wear makeup but I am a die-hard fan of eyeliner and mascara. I feel like it wakes up your face without doing much else.
I NEVER go to sleep without washing my face. I don't use products and stuff. Just a natural scrub once a week. But each night, I go old school. A wash cloth and warm water. I use Oil of Olay moisturizer with sunscreen each day and night before I go to sleep.
I like pops of color on these big, beautiful, luscious lips of mine! Lol! My fave is Ruby Woo by Mac! This is my go to when I want a pop of color. I'm not afraid of orange, pink, or black! I'll wear it all. Most days you'll fine me with a nude gloss though.
3) Are there any favorite albums you and your husband listen to together and what do y'all do to connect while being at home with the kids all the time?
The hubs is an avid lover of music so listens to music all day long. Me on the other hand, I'll listen to music randomly. I drive in the car in silence. It's my time to think and allow my creative juices to flow. I don't get too much creative flow time at home with my 5 year old. But our fave "together" song is The Point of it All by Anthony Hamilton. It's kinda hard to connect at the house with our little one because he's very 'I wanna be up under you all of the time' unless he's trying to be sneaky on his pad and watch videos he's not supposed to watch. I'm a night owl and so are both of my children. I'm not really a traditional mom. Dad is but he kinda just lets me do my thing. In saying that, our kiddo doesn't really have a set bedtime but when we do lay him down, we are intentional about sitting on the couch and touching hands, even if for 30 minutes or so. It's a kinda unspoken thing. He might fall asleep but it's okay. The teenager is in his own teenage world. He'll come out for food and has actually started to sit down and talk about stuff lately! I love it so. I don't make it a big deal because he'll probably stop. But it's cool. The hubs has to leave out for work at 6 every morning but doesn't leave without kissing me first. I'm asleep but I remember
️ This is a connect that I look forward to every day.
4) Five people living or dead you could have dinner with, who are they and why?
My great-grandmother. She was a member of the Black Foot Native American tribe. I would love to hear my history, rituals, traditions. I'd love to hear her voice and look into her eyes. Bob Marley. He was such a dope soul. He loved people like I do. He was just dope. Martin Luther King Jr. I want to know the intricacies of the fight. The untold stories. I'd get from him his wisdom on how he feels we should attack where and what we are as a people today. Michael Jackson. I just loved him so. I was the girl that cried ugly tears when his hair got burned off making the Pepsi commercial. I wrote him a letter. I was the girl that cried when he came on TV. I would probably still faint today. Daymond John. CEO and Founder of FUBU. He's a millionaire. I need his knowledge. #goals
5) Dream escape, you can snap your fingers and be there. Where do you go and why?
Somewhere tropical that has a beach and a hammock. Don't really care where. As long as I have my dude, I'll be good!