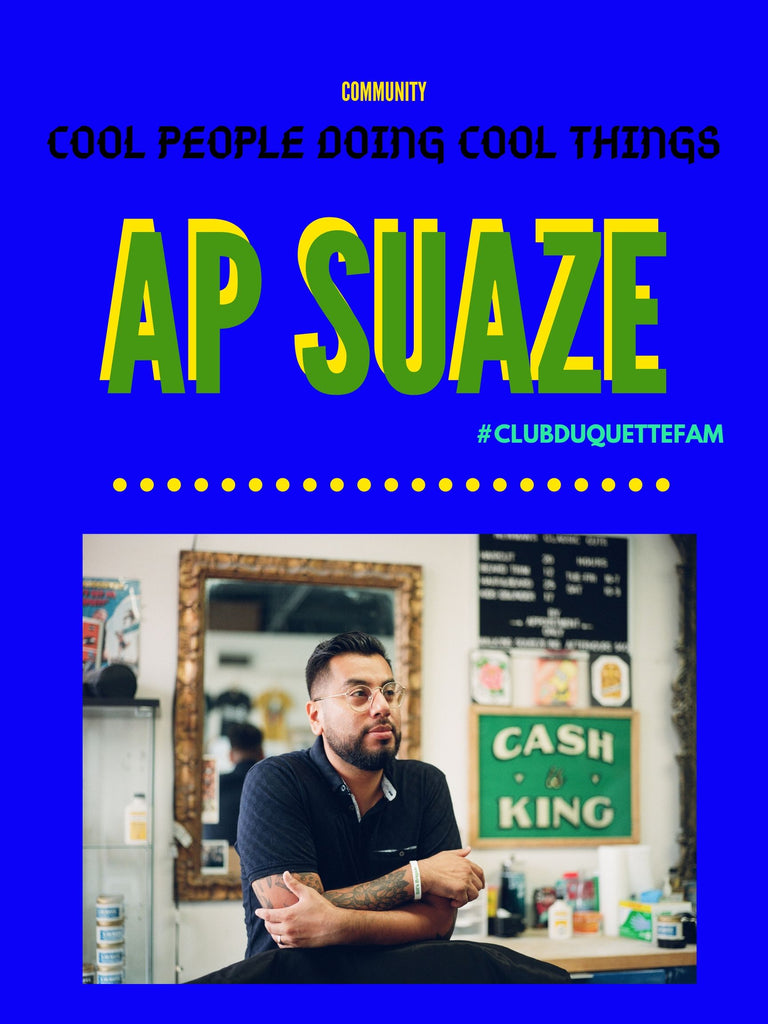 At the heart of what we do is the spirit of community, of family, good vibes and radical acceptance, inclusion and love! You know, just keeping it light around here. :)
We are stoked to start sharing Cool People Doing Cool Things, a way for us to talk to people who are, well, doing cool things and to share what's up. 
First up, AP SUAZE! DJ, Beatmaker, Producer, Barber, Husband, Father, Friend. We aren't great at writing bios but all these things are true. Tune into his radio show Pastime Paradise and stream past episodes on Substrate Radio. And make an appointment to get fresh in his chair at Newman's Classic Cuts inside Seasick Records. 
FIVE THINGS...
1. Can't start my day without:
Giving my wife a kiss and asking if she slept ok.

2. If I could only have five records to hear for the rest of my life:
That's a really tough question but at this very exact moment I will say :
(I will regret this list later, it's impossible to answer this question properly)
3. Favorite barber shop moment: 
All we do is talk shit it's pretty damn ridiculous and I can go on and on about us cookin our dudes cause it's a daily thing. One instance that comes to mind is
a dude came in and sat in Newman's chair. Newman asked why we hadn't seen him in a while. The guy responded my wife has been cutting my hair. I looked over at him and said I'm sorry, he asked why? And I said I didn't realize your wife had a tremor and we all fell out laughing. 🤷🏽‍♂️
4. Do you have a mantra or motivation in life/a drop of wisdom you'd like to share? 
Not all money is good money (that's a fact)
5. EVERY DAY CARRY/ POCKET OR BAG DUMP...
-Got a few loose 1's just in case 
-An Avocado for protein (should have eaten it by now)
-
Mo Metta Blues
By QuestLove because it's a great read and if my phone dies and I'm stuck somewhere I know I'll be entertained. 
- Some Versace cologne that's damn near gone but I like to smell hella good when I walk into a room.
- An all purpose knife cause you never know when it'll come in handy.
-Rips candy (I've tried the red and blue but the rainbow flavor slaps the most)
- Keys for unlocking things 
- small box of kushy punch gummies ☠
YEP SUAZE DROPPED A SEXY MIX FOR THE FAM>>> LISTEN TO IT HERE. 
PHOTOS BY MARKHAM TUCK